Welcome to Global Projects Yachting...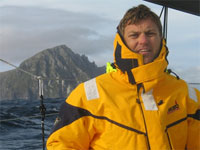 Alan Nebauer - Cape Horn in background
Global Projects is headed by Australian Alan Nebauer, former Around Alone competitor and experienced cruising yachtsman.
We provide services for yachting to suit owners' aims and plans, whether it be pre-purchase, cruise planning advice, execution of a successful delivery voyage or arranging shipping of your yacht to or from any port in the world.
Read on to view details on our services, then contact us so that we can discuss how we might help you accomplish your next yachting goals.